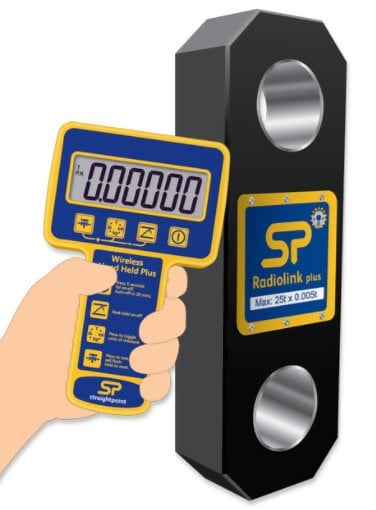 ---
Capacities up to 500 Tonnes / 1,100,000 lbs
---
The Crosby Straightpoint Radiolink Plus wireless dynamometer is designed for weighing and dynamic load monitoring in a wide range of applications. All Crosby Straightpoint Plus Dynamometers are supplied with the battery-powered SW-HHP Handheld Display. It is constructed of high-quality aircraft grade aluminum and features an advanced internal design structure. The design not only provides an unrivaled strength to weight ratio but also allows the use of a separate internal sealed enclosure providing the load cell's electronic components with IP67 environmental protection even with the battery cover plate missing, making this industry leading dynamometer even more suitable for use in the harshest environments.
Featuring industry leading wireless technology and range, the versatile Radiolink plus has an update rate of 3Hz and can be easily configured to run at industry leading speeds of up to 200Hz. Data is transmitted wirelessly utilizing the latest in IEEE 802.15.4 (2.4 GHz) technology providing safe, high integrity, error free transmission of both static weight and dynamic load to a wireless handheld controller.
Designed for measurement of both Static and Dynamic Loads the Radiolink Plus can also be used in combination with our range of high speed wireless data logging software allowing for simultaneous control, display and real time data logging of up to 100 Straightpoint telemetry Load Cells. A .csv file format is used for data logging and opens in MS Excel allowing easy visual presentation of the logged data and simple test certificate generation.
The Radiolink Plus utilizes easily sourced AA alkaline batteries. Advanced circuitry extends battery life and the use of easily sourced alkaline batteries eliminates issues associated with rechargeable battery pack charging, failure and replacement.
A full array of wireless accessories are also available including signal boosters, LED wireless scoreboards and base stations with analogue (4-20mA, 0-10v, 0-5v) or digital (RS232/485, Modbus RTU, and ASCII serial communications protocol) outputs.
The Radiolink plus is the number one choice for weighing and dynamic load monitoring in critical lift planning and execution
Straightpoint Radiolink-Plus Wireless Dynamometer Tension Load Cell - RLP
wireless display
4x AA batteries
RFID tag
calibration certificate
instruction manual
Models up to 35T/77,000lbs are supplied in foam fitted carrying cases.
Shackles are not included. Inquire if required
All Radiolink Plus Dynamometers are supplied with the battery-powered SW-HHP Handheld Display
User-selectable units (Lbs, Kg, kN, Tonne) with highest resolution
2.4 GHz Wireless with Industry Leading Range (700 meters / 2300 feet)
All Radiolink Plus Dynamometers are Environmentally Sealed, IP67 / NEMA 6 Rated (Waterproof)
SW-HHP Hand-Held Display has protection rating of IP65 / NEMA 4 (Waterproof)
SW-HHP Hand-Held Display features user-set 90db audible overload alarm with user-reset overload counter
SW-HHP Hand-Held Display includes remote On/Off, peak hold and pre-set tare functions
Wall or Cab Mount Bracket optionally available for SW-HHP (p/n SU3282)
Internal Antenna
Long Battery Life - Remote Display 60 Hrs / Loadcell 1200 Hrs continuous use
Complete Design of load cell has been validated by Finite Element Analysis
All models are supplied with a Traceable Calibration Certificate
"-WS" models are supplied with two (2) shackles, refer to BUY NOW Section at bottom of page
Warranty 1-Year (FREE Extension to2-Year Warrantywith Product Registration)
| | |
| --- | --- |
| Accuracy | +/- 0.3%of Applied Load |
| Wireless Range | 2300 feet (700 meters) |
| Radio Frequency | 2.4GHz |
| Data Transmission Rate | 3Hz up to 200Hz can be ordered for dynamic load monitorning applications |
| Battery Type | Remote Display 2 x AA / Loadcell 4 x AA |
| Battery Life | Remote Display 60 Hrs / Loadcell 1200 Hrs (continuous use) |
| Display Type | 6 digit 0.9 inch LCD (22mm) |
| Operating Temp | 14F to 122F (-10C to +50C) |
| Housing Protection Sensor | IP67 / NEMA 6 (Waterproof) |
| Housing Protection Display | IP65 / NEMA 4 (Waterproof) |
| Warranty | 1-Year (FREE Extension to 2-Years with Product Registration) |
Model
Capacity
Resolution
Weight
SafetyFactor
Load PinDiameter
Overall Height
RLP1TU
2000 lb
1000 kg
1 lb
0.5 kg
3.1 lb
1.4 kg
12:1
3/4 In
19 mm
8.03"
204 mm
RLP2T5U
5500 lb
2.5 te
2 lb
0.001 te
3.1 lb
1.4 kg
5:1
3/4 In
19 mm
8.03"
204 mm
RLP5TU
11000 lb
5 te
2 lb
0.001 te
4.4 lb
2 kg
5:1
1 In
25 mm
9.80"
249 mm
RLP12TU
26000 lb
12 te
5 lb
0.002 te
7.1 lb
3.2 Kg
5:1
1-3/8 In
35 mm
12.01"
305 mm
RLP25TU
55000 lb
25 te
10 lb
0.005 te
11 lb
5 kg
5:1
2 In
51 mm
13.39"
340 mm
RLP35TU
77000 lb
35 te
10 lb
0.005 te
19 lb
8.6 kg
5:1
2-1/4 In
57 mm
15.47"
393 mm
RLP50TU
110000 lb
50 te
20 lb
0.01 te
25.3 lb
11.5 kg
5:1
2-1/4 In
57 mm
16.69"
424 mm
RLP75TU
165000 lb
75 te
20 lb
0.01 te
35.3 lb
16 kg
5:1
2-3/4 In
70 mm
18.50"
470 mm
RLP100TU
220000 lb
100 te
100 lb
0.05 te
75 lb
34 kg
5:1
3-1/4 In
83 mm
23.94"
608 mm
RLP150TU
330000 lb
150 te
100 lb
0.05 te
101.4 lb
46 kg
4:1
3-3/4 In
95 mm
26.38"
670mm
RLP200TU
440000 lb
200 te
200 lb
0.1 te
158.7 lb
72 kg
5:1
4-3/4 In
121 mm
27.56"
700 mm
RLP250TU
550000 lb
250 te
200 lb
0.1 te
158.7 lb
72 kg
4:1
5 In
127 mm
27.56"
700 mm
RLP300TU
660000 lb
300 te
200 lb
0.1 te
260 lb
118 kg
5:1
6 In
152 mm
31.73"
806 mm
| | |
| --- | --- |
| for RLP, CP, LLP and WLP Dynamometers | |