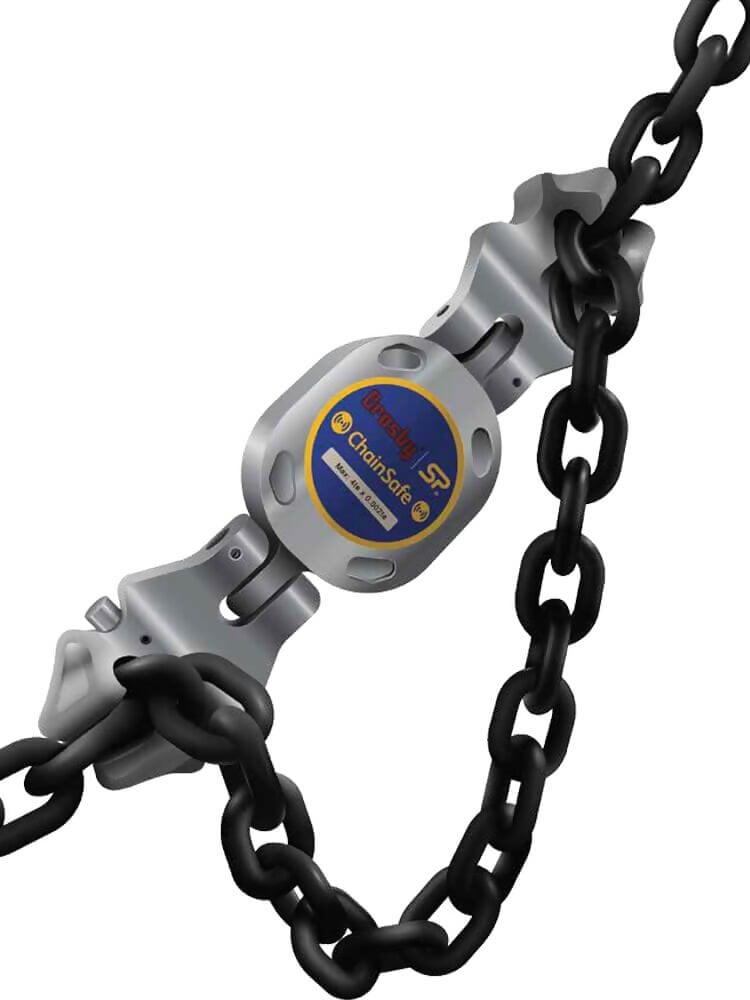 ---
Designed to work along the length of 10mm chain
---
Lightweight load cell easily attaches to the length of chain
---
The Straightpoint ChainSafe Chain Load Monitoring Bluetooth Tension Load Cell is a Bluetooth wireless tension load cell capable of load monitoring of capacities up to 4te. Specifically designed for use along the length of the chain with an array of The Crosby Group chain fittings for applications where chain slings, chain lashing and tie-downs are used in industries such as transportation and construction to secure loads and precious cargo.
The ChainSafe design has an unrivalled strength to weight ratio with a completely sealed stainless steel enclosure providing IP67 or NEMA6 environmental protection, making this industry-leading dynamometer even more suitable for use in the harshest environments.
The versatile chain load monitoring device has an update rate of 1Hz and the Bluetooth signal effortlessly connects to any iOS or Android smartphone that has our free HHP app installed. This will provide the operator with a wireless range of up to 328ft or 100m measuring the load from a safe distance. The app will also allow the operator to log data versus time or on events such as over or underload and the adjustable alarm will alert the operator on their smartphone if any overload is occurring.
Straightpoint ChainSafe Chain Load Monitoring Bluetooth Tension Load Cell
Lithium Thionyl Chloride (non-replaceable)
Calibration & proof test certificate
Multi-lingual user manual (HHP App)
Carry / transit case
RFID Tagged
2-year warranty
Design validated by F.E.A.
Designed to work along the length of 10mm chain.
Bluetooth wireless range of 100m/328ft.
Lightweight load cell easily attached to the length of chain.
No battery change required - Battery life 5 years based on 3hrs use per day
Environmentally protected to IP67/NEMA6.
Internal Antennae.
Conforms to EN1677:2008
Fatigue tested to 30000 cycles to 1.5x WLL.
Specifications
| | |
| --- | --- |
| Part Number: | CS4T-CROSBY |
| Crosby Part number | 2789536 |
| Capacity MET | 4te |
| Capacity IMP | 8800lb |
| Resolution MET | 0.002te |
| Resolution IMP | 4lb |
| Weight MET | 2.5kg |
| Weight IMP | 5.5lb |
| Safety Factor | 4:1 |
| Battery Type | Lithium Thionyl Chloride (non-replaceable) |
| Battery Life | 5 years based on 3hrs use per day. |
| Operating Temp | -10c to +50c / 14 to 122F |
| Accuracy | +/- 0.2% of full scale |
| Range | 100 metres / 328 feet |
| Data Rate | 1Hz |
| Protection | IP67/NEMA6 |
| Recommended fittings | 3/8" (10mm) G100 Chain fittings |
Lashing
Load Securement
Tie Downs
Transportation
Small cranes, chain sling legs
Towing chains
Tension in sling legs