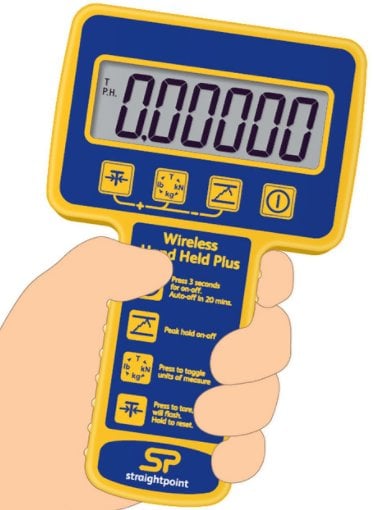 ---
Overload counter
---
User settable 90db audible overload alarm
---
Wireless Range 700 metres
---
Multiple display units tonnes, lbs, kg and kN
---
Hand-Held Plus Wireless Load Cell Indicator
The Straighpoint SW-HHP Hand-Held Display is our rugged and versatile digital handheld display with a broad range of features and suitable for all Straightpoint loadcell products.
At the heart of the ergonomically designed Handheld Plus is a powerful PCB providing industry leading features such as user selectable units of measure (tonnes, lbs, kg and kN), programmable audible overload alarm, peak hold, pre-set tare and a user resettable overload counter.
This crucial overload alarm counter is a requirement for many safety and quality control departments as it keeps track of overload events allowing the load cell in question to be removed from service immediately following the calibration voiding overload event.
The load cell in question can then be sent out for proper testing and, if necessary, recalibration before re-entering service.
Overload counter
User settable 90db audible overload alarm
Multiple display units tonnes, lbs, kg and kN
Peak hold
Preset Tare
Wireless Range 700 metres
| | |
| --- | --- |
| Battery Type | 2 x AA |
| Battery life | 60 hours continuous |
| Operating Temp | -10C to 50C or 14F to 122F |
| Display type | 6 digit 25mm or 1" LCD |
| Display rate | 3 Hz |
| Protection | IP65 or NEMA 4X |
| Max Resolution | 1:999999 |
| Connectivity | Wireless 2.4 GHz |