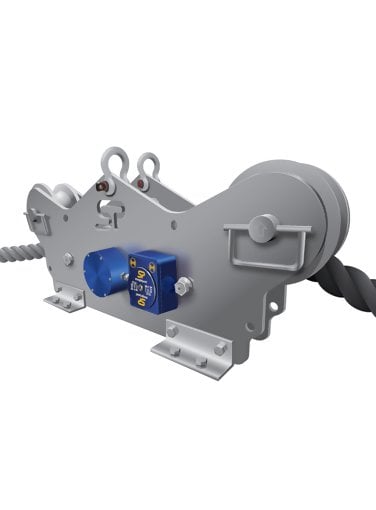 ---
The TIMH range is a Running Line Tensiometer or RLTM built with dockside, marine, offshore, towage and salvage applications in mind.
---
Capacities up to 80 Tonnes / 176,000lbs
---
MTIMH and TIMH are Running Line Tensiometers (tension sensors) for dockside, marine, offshore, towage and salvage applications. It is particularly useful where there is no anchor or dead end on the line to rig a Radiolink or Loadlink digital dynamometer to measure tension force at speeds up to 20m/min or 65ft/min.
The MTIMH/TIMH is fabricated from corrosion resistant stainless steel featuring a five (5) sheave arrangement keeping the cable under tight control as it weaves its way thru the sheaves. This greatly enhances accuracy and repeatability. These sheaves feature maintenance-free bearings. The sensor's load pin housing is rated at IP67 (Nema 6) making it suitable for use in the harshest environments.
Two versions of the TIMH are available:
Long range 2.4GHz version providing an industry-leading wireless range of 1000m / 3280ft to SP's SW-HHP handheld or software options.
Bluetooth output for connection any device running our free HHP app available for iOS or Android at ranges up to 100m or 328ft.
"T" models feature cabled output of tension "TR" models feature wireless output of tension "TRD" models feature wireless output of both tension and payout out/in (length)
We can also provide custom-engineered solutions for your specific application.
Available as a wireless or cable connected system utilizing our HHP range of handheld displays or SW-MWLC software, this impressive Running Line Dynamometer or RLTM is available to ship to anywhere in the world within days.
Straightpoint TIMH Running Line Tensiometer
Proof test certificate
Operating Instruction Manual
Wooden crate
Fabricated from corrosion resistant stainless steel featuring a five (5) sheave arrangement for highest accuracy
Options for line out, line in and line speed is included with Wireless version (requires connection to SW-MWLC Software)
Cabled, wireless or Bluetooth connection alternatives
Bluetooth Option allows user to use Free App for wither Android or IOS Smarphones to view, log and transfer data via email or text. This eliminates the need for using a separate Hand-Held indicator.
IP67/NEMA6 Loadpin
Industry leading battery life
Maintenance free heavy duty bearings
Large range of capacities from 10t to 150t and wire rope diameters up to 52mm / 2
Gravity catches fitted to top sheave pins make wire rope installation quick and simple
Software and App to data log and monitor or analogue outputs available as an option
Design validated by Finite Element Analysis to insure optimal structural integrity
ATEX version available for use in hazardous work environments
MTIMH Models - maximum Linear speed of cable is 165 ft/min (50 meters/min)
TIMH Models - maximum Linear speed of cable is 65 ft/min (20 meters/min)
Warranty 1-Year (FREE Extension to 2-Years with Product Registration)
Accuracy
+/- 2%of Full Scale
Range
1600 ft line of sight / Wireless version 500 m
Battery Type
Wireless version 4 x AA alkaline batteries
Battery Life
Wireless version 1200 hrs
Operating Temp
14 to 122 F / -10 to +50 C
Protection
NEMA6 / IP67
Frequency
2.4 GHz
System Range
700 metres - 2300 feet
Data Rate
3 updates per second
Line out and speed
via SW-MWLC software
Overall Height
12.99" / 330 mm
Weight
168 lbs / 76 kg
MTIMH10T:20 lbs / 9 kg
Cable Speed (max)
MTIMH = 165 ft/min (50 meters/min)
TIMH = 65 ft/min (20 meters/min)
Part Number:
Straightpoint
Crosby
Capacity
Res.
Wire Rope
Weight
Max. Speed
MTIMH10TRD
2789054
10 te
22000 lb
0.01 te
20 lb
4-19 mm
5/32 - 3/4
9 kg
20 lb
50 m per minute
164 ft per minute
TIMH10TRD
2789136
10 te
22000 lb
0.01 te
20 lb
13-19 mm
1/2 - 3/4
90 kg
198 lb
20 m per minute
65 ft per minute
TIMH25TRD
2789139
25 te
55000 lb
50lb
16-26 mm
16-26 mm
5/8 - 1
86 kg
190 lb
20 m per minute
65 ft per minute
TIMH56TRD
2789144
56te
123200 lb
100 lb
28-38 mm
28-38 mm
1 1/8 - 1 1/2
81 kg
179 lb
20 m per minute
65 ft per minute
TIMH80TRD
2789146
80 te
176000 lb
200 lb
40-52 mm
40-52 mm
1 5/8 - 2
76 kg
168 lb
20 m per minute
65 ft per minute
TIMH150TRD
2789270
150 te
330000 lb
500 lb
52-89 mm
52-89 mm
2 - 3 1/2
230 kg
506 lb
20 m per minute
65 ft per minute
Part Number:
A
B
C
D
MTIMH10TRD
2789054
422 mm
16.62
328 mm
12.9
152 mm
5.98
36 mm
1.4
TIMH10TRD
2789136
880 mm
34.65
700 mm
27.55
330 mm
12.99
110 mm
4.33
TIMH25TRD
2789139
880 mm
34.65
700mm
27.55
330 mm
12.99
110 mm
4.33
TIMH56TRD
2789144
880 mm
34.65
700 mm
27.55
330 mm
12.99
110 mm
4.33
TIMH80TRD
2789146
880 mm
34.65
700 mm
27.55
330 mm
12.99
110 mm
4.33
TIMH150TRD
2789270
1250 mm
49.21
1050 mm
41.33
416 mm
16.37
153 mm
6.02