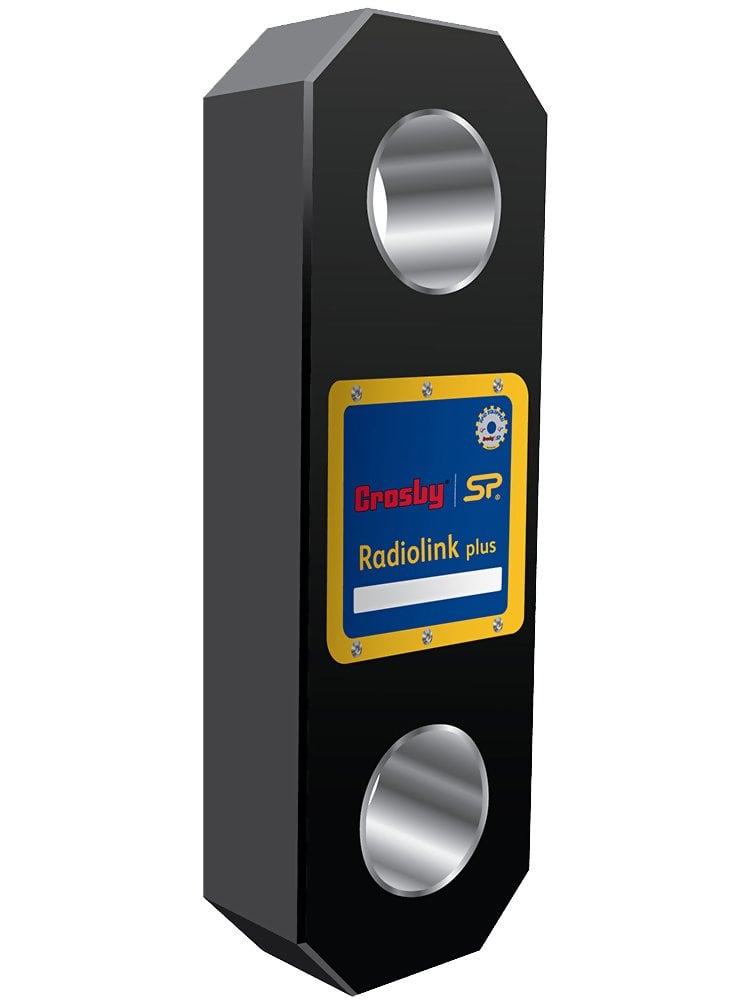 ---
Wireless Dynamometer without hand-held digital display
---
Capacities up to 300 Ton (660,000 lbs)
---
Optional Bluetooth Output for connection to the free HHP APP
---
Connect up to 126 Compound Plus Loadcells to a single PC with INSIGHT Software
---
The Straightpoint RadioLink Compound Plus (CP) Wireless Dynamometer is designed for weighing and dynamic load monitoring in a wide range of applications. All Compound Plus Dynamometers are supplied with 2.4GHz Wireless Output for connection to the optional battery-powered SW-HHP Handheld Display or INSIGHT Multiple Wireless Loadcell Software. There is also a version "-BLE" providing a Bluetooth Output for connection to the no-cost HHP App for Apple and Android Phones and Tablets.
The Compound Plus (CP) wireless dynamometer is the same as a Radiolink Plus but supplied without the SW-HHP Hand-Held Indicator.
The CP is constructed of high-quality aircraft-grade aluminum and features an advanced internal design structure. The design not only provides an unrivaled strength to weight ratio but also allows the use of a separate internal sealed enclosure providing the load cell's electronic components with IP67 environmental protection even with the battery cover plate missing, making this industry-leading dynamometer even more suitable for use in the harshest environments.
When supplied with the 2.4GHz wireless output the CP featured industry-leading wireless technology and range, has an update rate of 3Hz and can be easily configured to run at industry-leading speeds of up to 200Hz. Data is transmitted wirelessly utilizing the latest in IEEE 802.15.4 (2.4 GHz) technology providing safe, high integrity, error-free transmission of both static weight and dynamic load to a wireless handheld controller.
The long-range Bluetooth signal connects to any iOS or Android device that has our free HHP app installed, providing the operator with a wireless range of up to 328ft / 100m. This allows them to stand in a safe position away from the load, with no requirement to read directly from the dynamometer. The app will also allow the operator to log data versus time, or on events such as over or underload. An adjustable alarm will alert the operator on their smartphone if any overload is occurring.
Designed for measurement of both Static and Dynamic Loads the Compound Plus can also be used in combination with our range of high-speed wireless data logging software allowing for simultaneous control, display and real-time data logging of up to 100 Straightpoint telemetry Load Cells. A .csv file format is used for data logging and opens in MS Excel allowing the easy visual presentation of the logged data and simple test certificate generation.
The Compound Plus utilizes easily sourced AA alkaline batteries. Advanced circuitry extends battery life and the use of easily sourced alkaline batteries eliminates issues associated with rechargeable battery pack charging, failure, and replacement.
A full array of wireless accessories are also available including signal boosters, LED wireless scoreboards and base stations with analog (4-20mA, 0-10v, 0-5v) or digital (RS232/485, Modbus RTU, and ASCII serial communications protocol) outputs.
The CP Compound Plus Dynamometer Loadcells are supplied without the SW-HHP Wireless Hand-Held Indicator or Software. Both are available for purchase as an option.
RadioLink Compound Plus
4x AA batteries
RFID tag
Calibration certificate

Instruction Manual
Models up to 35T/77,000lbs are supplied in foam fitted carrying cases. Larger capacities are supplied in an approved shipping crate
Shackles are not included
Supplied with a Traceable Calibration Certificate
Accuracy of 0.1% full scale with a safety factor of 4:1 up to 12:1 (depends on capacity)
2.4GHz Wireless Output for connection to the optional battery-powered SW-HHP Handheld Display or SW-MWLC Multiple Wireless Loadcell Software
2.4GHz Wiresless Output features a transmission distance of 2300 Ft (700 meters)
"-BLE" Bluetooth Output for connection to the no-cost HHP App for Apple and Android Phones and Tablets.
The Bluetooth Output features a transmission distance of 328 Ft (100 meters)
Compound Plus Housing is IP 67 Rated (NEMA6) for use in the harshest indoor & outdoor environments
Battery life of 1200 hours continuous use using 4x AA Alkaline Batteries
DNV Type Approval (DNVGL-ST-0378 Standard for offshore and platform lifting appliances)
Uses powerful "internal" antenna eliminating the possibility to damage it
Uses standard Crosby Shackles, optional
Warranty 1-Year (FREE Extension to 2-Years with Product Registration)
Made in the UK
| | |
| --- | --- |
| Accuracy | 0.1% full scale |
| Safety Factor | 4:1 up to 12:1 (depends on capacity) |
| Battery Life | 1200 Hrs (continuous use) |
| Battery Type | Remote Display 2 x AA / Loadcell 4 x AA |
| Display Type | 6 digit 0.9 inch LCD (22mm) |
| Operating Temp | 14F to 122F (-10C to +50C) |
| Radio Frequency | 2.4GHz |
| Wireless Range | 2300 feet (700 meters) |
| Bluetooth Range | 328 Ft (100 meters), requires "-BLE" version with Bluetooth output |
| Data Transmission Rate | 3Hz up to 200Hz can be ordered for dynamic load monitorning applications |
| Housing Protection Sensor | IP67 / NEMA 6 (Waterproof) |
| Warranty | 2-Years |
SP
Crosby
Capacity
Res.
Units
Weight
Safety Factor
CP1T
2789018
1,000kg
2200 lb
0.5 kg
1 lb
kg
lb
1.5 kg
3.3 lb
12:1
CP2T5
2789022
2.5 te
5500 lb
0.001 te
2 lb
te
lb
1.5 kg
3.3 lb
7:1
CP6T5
2789027
6.5 te
14300 lb
0.001 te
2 lb
te
lb
2.4 kg
5.3 lb
7:1
CP12T
2789016
12 te
26000 lb
0.002 te
5 lb
te
lb
3.7 kg
8.2 lb
7:1
CP25T
2789021
25 te
55000 lb
0.005 te
10 lb
te
lb
5 kg
11 lb
5:1
CP35T
2789024
35 te
77000 lb
0.005 te
10 lb
te
lb
8.6 kg
19 lb
5:1
CP55T
2789026
55 te
120000 lb
0.01 te
20 lb
te
lb
13 kg
28.7 lb
5:1
CP75T
2789028
75 te
165000 lb
0.01 te
20 lb
te
lb
16 kg
35.3 lb
5:1
CP100T
2789001
100 te
220000 lb
0.05 te
100 lb
te
lb
34 kg
75 lb
5:1
CP150T
2789017
150 te
330000 lb
0.05 te
100 lb
te
lb
46 kg
101.4 lb
4:1
CP200T
2789019
200 te
440000 lb
0.1 te
200 lb
te
lb
82 kg
180.8 lb
5:1
CP250T
2789020
250 te
550000 lb
0.1 te
200 lb
te
lb
82 kg
180.8 lb
4:1
CP300T
2789023
300 te
660000 lb
0.1 te
200 lb
te
lb
118 kg
260 lb
5:1
CP500T
2789025
500 te
1100000 lb
0.1 te
200 lb
te
lb
248 kg
546.7 lb
5:1
| | |
| --- | --- |
| for RLP, CP, LLP and WLP Dynamometers | |